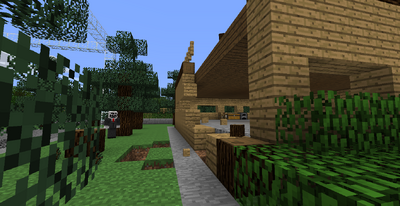 At approximately 7:30pm on Wednesday 22 January 2013, much of the Foxden Road neighbourhood was rocked by a large explosion which occurred in the vicinity of 4 Foxden Road. The explosion caused serious damage to the building, leading to the loss of nearly an entire wall, as well as a nearby spruce tree.
Although originally feared to have been a terrorist attack, the cause of the explosion was later determined to have been a particularly serious lightning strike. One person, Foxden Wiki employee Pendolino390004, suffered several hearts of damage as a result of the explosion. The damage has since been repaired with the help of King jeffersonwhewell, although the fallen tree is yet to be replaced.
Despite the fact the explosion's epicentre was equidistant between 2 Foxden Road and 4 Foxden Road, the former was undamaged as it was still operating as a demo plot at the time, and as such had not been built on. It was only immediately after the incident that construction began.