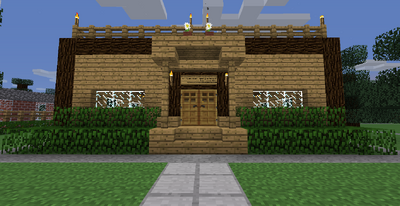 4 Foxden Road, also known as the Foxden Wiki Headquarters or the Foxden Wiki Building, is a building located on Foxden Road in central Foxden. Owned by Pendolino390004, the building has been the official headquarters of the Foxden Wiki since 21 January 2014. Construction remains ongoing, despite the fact that the wiki has moved in on site, though most of the work is taking place on the roof of the building.
The front of the building contains a tall porch, made of oak planks, with stairs and fence posts supporting the porch roof. To the left and right of the porch is a long clipped oak hedge stretching the length of the building. In the middle of the porch are a set of large double doors, surrounded by a spruce wood door frame. Above the door are two signs, announcing the building's address and affiliation with the Foxden Wiki. The rest of the building is largely made of oak planks and spruce wood, with a roof of spruce planks and a floor of cobblestone. The top of the building is surrounded by fence. Currently, construction continues on the roof, with dirt being spread out atop the roof ready for the future installation of a self-sufficient wheat farm.
On Wednesday 22 January 2014, 4 Foxden Road suffered severe damage following a large explosion. The damage has since been repaired.